Rotary Tiller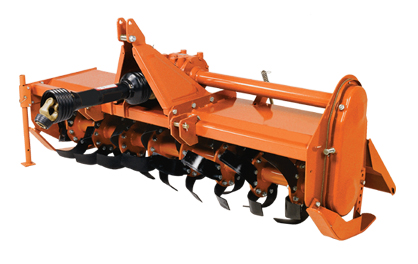 Windsor Agro holds in-depth specialization and technical know-how in manufacturing rotary tiller for tractors, and supplying them across the globe. We are known as one of the most reliable and reputed rotary tiller manufacturers in India as we strictly adhere to international standards of quality and stay committed to deliver the best to our clients in the fastest possible turnaround time, irrespective of the order size. Moreover, we strictly comply with client's exacting requirements and ensure that they get customized rotary tillers for tractors at cost-effective prices.
We use robust technology and tools along with superior quality raw material to manufacture rotary tillers that meet industry set standards as well as your unique specifications. Our team of experienced and skilled workforce follow a step-by-step rotary tiller manufacturing process and make sure that each product goes through Quality Assurance (QA) test at the dedicated facility. Our gamut of rotavator feature imported Italian blades, high tensile strength, longer working life, low maintenance and an impeccable finish.
Get in touch!
Whether you have a small or huge requirement for rotary tiller, Windsor Agro can fulfill it within a stipulated time-frame. Simply drop us an email at info@windsoragro.com and we shall revert at the earliest.
| | | | |
| --- | --- | --- | --- |
| | WE 150 | WE 175 | WE 200 |
| Total Wt. | 360 Kg. (Approx.) | 395 Kg. (Approx.) | 435 Kg. (Approx.) |
| Tillage Width | 150 cm | 175 cm | 200 cm |
| Overall Width | 180 cm | 205 cm | 230 cm |
| Tractor Power | 40-45 | 45-55 | 55-65 |
| Gear Box | Single Bolt | Single Bolt | Single Bolt |
| Gear Box Overload Protection | Shear Bolt | Shear Bolt | Shear Bolt |
| P.T.O. Speed (r.p.m) | 540 | 540 | 540 |
| Rotor Speed | 210 | 210 | 210 |
| No. of Blades | 36 | 42 | 48 |
| No. Of Flanges | 6 | 7 | 8 |
| Mounted Height | 117 cm | 117 cm | 117 cm |

| | | | |
| --- | --- | --- | --- |
| W | T | H | CD |
| 80 | 7 | 11.5 | 57 |
| 80 | 7 | 14.5 | 57 |
| 80 | 7 | 14.5 | 46 |

Material - Boron Tested Steel
Hardness - 45 to 50 HRc

1. 100% Boron tested steel
2. Excellent Cutting Edge
3. Long Working Hours
4. Minimum Load on Rotary Tillers Machines
5. Tough Steel
Rotavator Blades, directly Imported form italy