AXIAL FLOW VEGETABLE SEED EXTRACTOR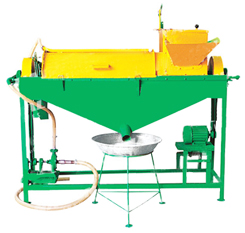 The purpose of vegetable seed extractor is to separate seeds form vegetable and fruit pulps,
our extractor is capable of dry/wet extraction. This product is highly in demand for extracting
seeds form water melon, chilies, cucumber summer squash, tomato, squash melon etc.

Benefits and Features:
Output may vary with change in Size of fruit/vegetable and seed
Electric Motor is used for Drive source
Two models available as per raw material,

Model with full stainless steel.
Model with Mild Steel

Also called Axial Flow Vegetable Seed Extractor
Technical Specifications:
| | |
| --- | --- |
| Name | Axial Flow Vegetable Seed Extractor |
| Material | Available in Fully stainless Steel model mild steel model |
| Driving Power | Electric Motor |
| Out put | Depends upon size of vegetable - seeds |
* Above Stated data is for Reference Only. Company owns the right to change model specifications and features.