MAIZE SHELLER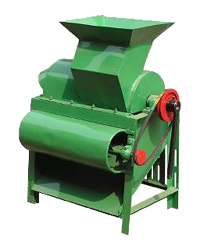 Maize shellerAs a Maize mill manufacturer, Windsor is recognized most respected firm of this industry. Maize Sheller produced by Windsor separates cobs and maize kernels gently, it also removes rachis efficiently. Our maize Sheller is being supplied to many seed processing companies and keeps in constant demand. Here they are used after removal of covers and drying process of cob. It works on the basis of traditional and gentle technique of rubbing cobs with each other to separate the cob form the kernel.
Benefits and Features:
Rugged uild quality that will give you unintruppeted service for years
Engine driven, electric motor driven and hand operated models available
Easy to maintain
| | |
| --- | --- |
| Technical Specifications: | |
| Out put | 18 qt / hr for 2 1/2 ft drum Size machine approx. 32 qt / hr for 3ft drum size machine approx. |
| Drum Size | 21 1/2 ft - 3 ft |
| Name | Maize Sheller |
| Driving Power | PTO Drive of tractor / Electric Motor / Diesel Engine |
* Above Stated data is for Reference Only. Company owns the right to change model specifications and features.